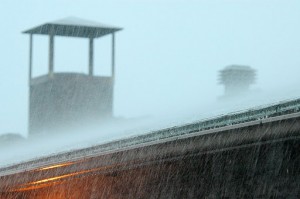 Summer is quickly winding down and you can feel the changing season. Fall in the northwest is a bit of a crap shoot. There are occasional years that look a bit more like summer than usual. You might wake up to a beautiful layer of fog and low temperatures quickly reaching summer temperatures in the afternoon. But we all know that many times as we turn the corner into September and October our trusty rain coats and boats are called to service once again.
With the little time we have left of this beautiful weather, it might be a good idea to take a look around the home to see if any repairs/upgrades are necessary.
If you are handy you can do much of this yourself but don't be afraid to call in the professionals to give you a hand.
Let's start at the top.  Most materials used on the roof are rated for 15-50 years depending on what was originally installed on your home. Depending on the wear and maintenance each roof will reflect differently. Now would also be a good time to clean the roof of leaves and debris, and while you're up there it would be a good idea to clean the gutters and inspect that they are functioning correctly. Are there any places water has been running over the gutters and down a wall or support post? Are all of your down spouts attached and draining either into storm drains or diverted away from the house so not to create standing water under your home?
Let's walk around now and look at the siding. How is the paint holding up? Is it time for a fresh coat? Have a close look at the doors and windows. Is the flashing and caulk in good condition. In Washington State windows and doors are common locations for water leaks. A little caulk and paint save a lot of money in the long run. Not to be alarmed if you discover water has already found its way behind the siding and into the wall. We can make repairs it just makes sense to do the preventative work and save the money and headaches of unnecessary repairs.
A couple other things to keep in mind heading into winter are efficacy and safety issues. Depending on the type of heat you are using you might want to have your furnace serviced and filters replaced. If you use a wood stove and your chimney has not been cleaned recently it is probably a good time to have that done. As much fun as it is to have a nice rip roaring fire, the idea is to keep it in the fire place ant not in the chimney and possibly spreading to your home.
I would climb under the house and visually inspect the under floor insulation, and look to see if there are any pipes that should be wrapped to avoid freezing and possibly burst pipes. Especially if you are in an older home.
These are just a few of our recommendations. We hope this has helped! Please feel free to message us with any questions!
President
Ryan Jewell
/ / /